These Air Fryer Taquitos will be a family favorite in no time. They are delicious and super fun to eat and they are also simple to make in the air fryer with just seasoned ground beef, cheese, and tortillas!
These are one of the best air fryer Mexican recipes. Adding your favorite condiments like guacamole, salsa and sour cream make these taquitos an irresistible party or Game Day appetizer!
Air fried taquitos are just as delicious without all the oil. Enjoy the crunchy tortillas and cheesy filling. YUM!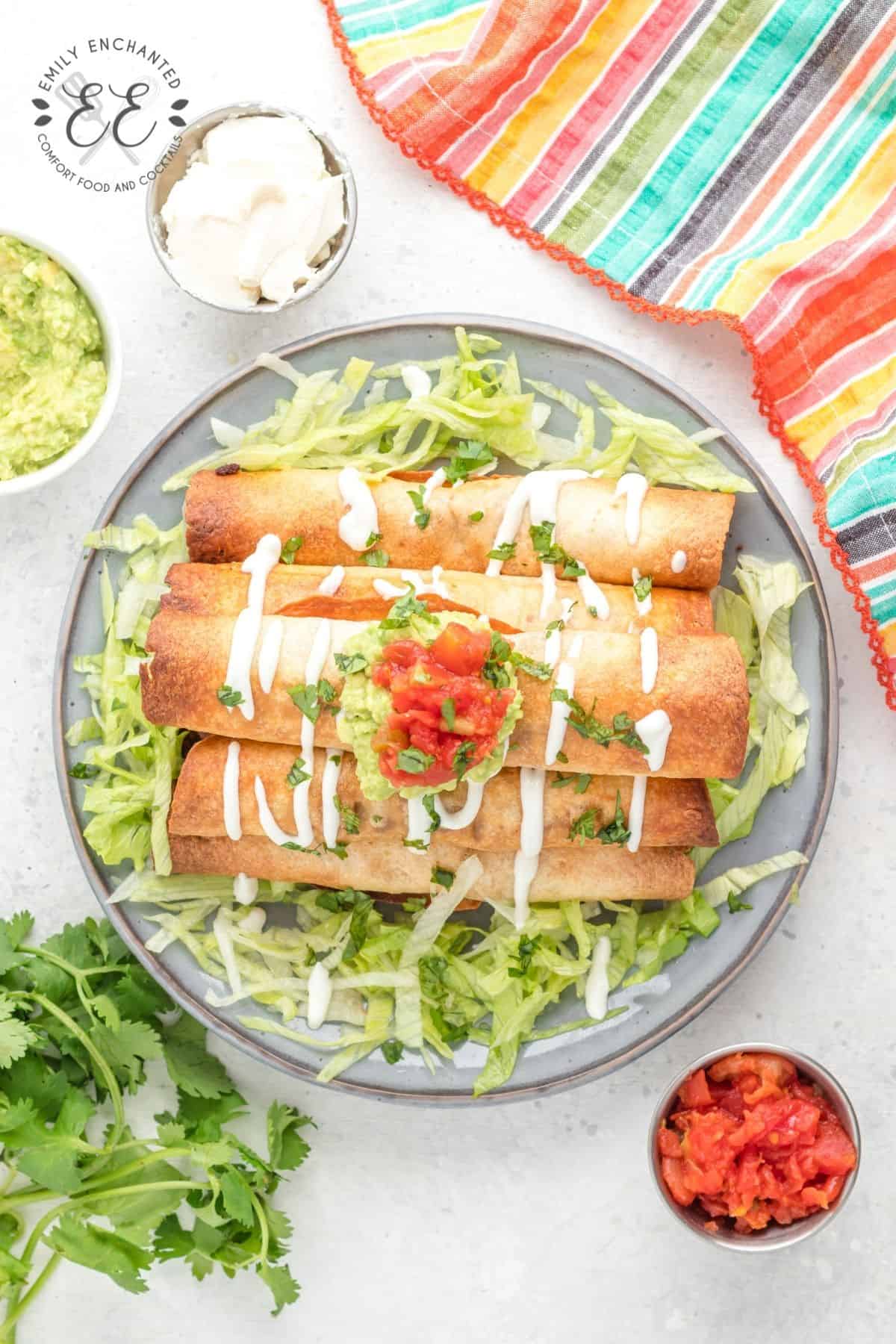 Air Fryer Taquitos Ingredients
To make air fryer rolled tacos, you will need the following ingredients (see the recipe card below for exact amounts):
Lean ground beef
Chili powder
Salt
Onion powder
Garlic powder
Cumin
Tomato paste
Cheddar cheese
Mozzarella cheese
Flour tortillas: I used 7 inch tortillas.
Olive oil
Optional garnishes: guacamole, salsa, sour cream, cilantro and shredded iceberg lettuce
How to Make Taquitos in an Air Fryer
In a medium frying pan brown ground beef. Add spices and tomato paste, stir to combine cook until meat is cooked through and no longer pink.
Preheat Air Fryer to 400 degrees.
Place a tortilla on a plate, add about 3 tablespoons of ground beef in the center and then top with shredded cheeses. Roll tortilla and secure filling with a toothpick along the seam. Repeat with the remaining tortillas.
When the Air Fryer is hot spray or brush the tray with olive oil and place the taquitos in a single layer on the tray, seam side up. Brush the tops of the taquitos with more olive oil. Cook the taquitos for 4 minutes, remove the toothpicks, flip, and cook for 4 more minutes.
Serve immediately and garnish with fresh cilantro if desired! Serve with guacamole, salsa, and sour cream for dipping and shredding iceberg lettuce on the side. Enjoy!
The Gourmia Air Fryer has a sleek design and quick buttons that are super helpful!
Recipe Variations
Corn tortillas – you will need to warm the tortillas on a skillet to prevent them from breaking when you roll them up.
Shredded chicken – using rotisserie chicken is quick and delicious.
Refried beans – perfect for a vegetarian option.
You can also try using different types of cheese such as Monterey Jack or Pepper Jack.
Use a taco seasoning packet to season the beef instead of individual spices.
If you are making these taquitos as an appetizer for a party they can be cut in half for a more mini size they can be kept warm in a 200-degree oven while you make additional batches.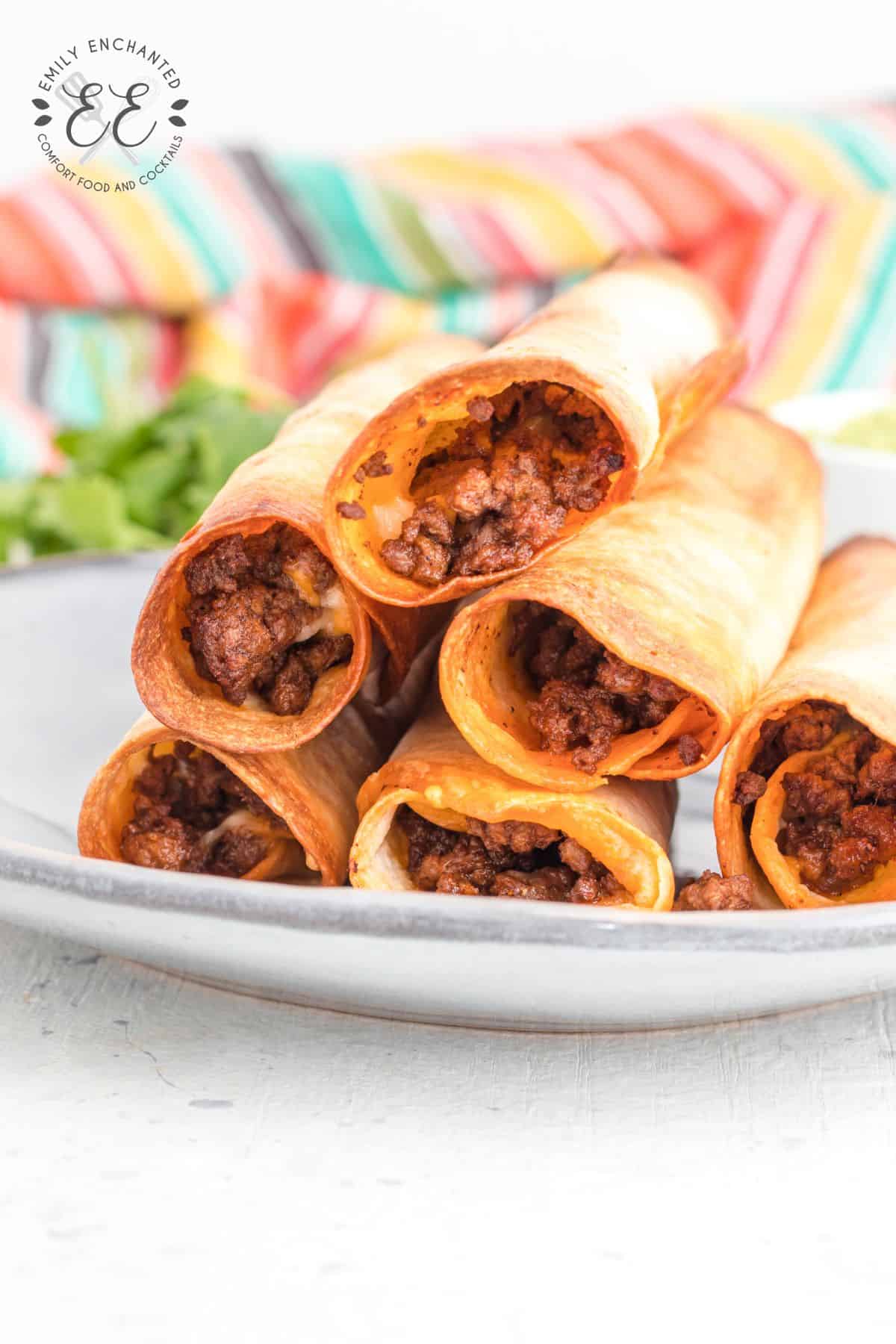 Serving Suggestions
If you are serving the taquitos as a meal you can serve them along with brown rice and beans, Pozole, or Mexican street corn!
FAQs
What do I do if my tortillas are breaking?
If your tortillas are difficult to roll you can warm them slightly in the microwave before assembling.
Which is the best air fryer?
All air fryers are different. I used the Cosori Air fryer for this recipe. You may have to adjust time and temperature if you have a different model.
More Air Fryer Appetizers