This Red, White and Blue 4th of July Popcorn is the perfect patriotic snack for such an event. Plain popcorn is drizzled with colored chocolate and topped with sprinkles and M&Ms.
When I watch fireworks on the 4th of July, I have to have a snack with me. Some easy, no bake 4th of July recipes you might want to try are Star Shaped Rice Krispie Treats, Red White and Blue Oreos, and 4th of July Thumbprint Cookies.
This post contains affiliate links.
Popcorn Snack Ingredients
To make this chocolate covered popcorn recipe, you will need the following ingredients (scroll down to the recipe card below for the full recipe):
Plain popped popcorn (no butter)
Red M&Ms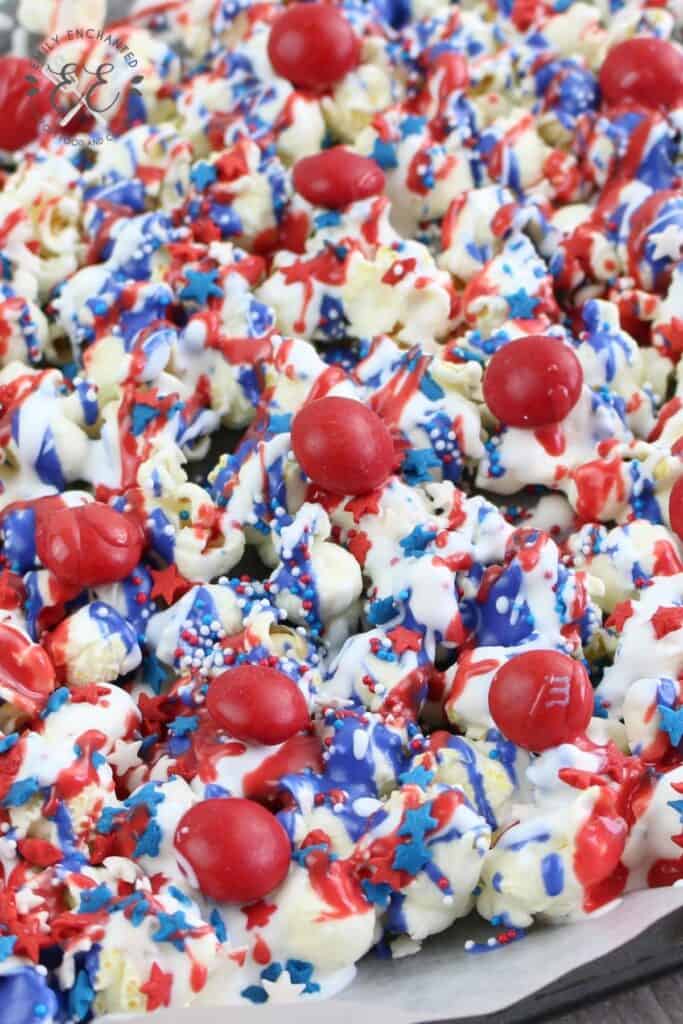 How To Make Red, White and Blue Popcorn
Line a cookie sheet with wax or parchment paper. (This is not going in the oven, so you can use either.) Spread the popped popcorn in a single layer on the lined cookie sheet. You can use pre-packaged plain popcorn or you can pop your own. Read how to make Intsant Pot Popcorn.
In a microwave safe bowl, microwave the blue candy melts for 45 seconds. Remove from the microwave and stir until completely melted and smooth. Using a spoon, drizzle on top of the popcorn. Immediately sprinkle the patriotic nonpareils on top of the melted blue chocolate.
Add the white candy melts to a separate microwave safe bowl and microwave on high for 45 seconds. Stir until melted and smooth. Drizzle on top of the popcorn. Before the white chocolate hardens, sprinkle patriotic star confetti sprinkles on top of the melted chocolate.
In a third microwave safe bowl, microwave the red candy melts and drizzle all over the popcorn. Immediately place the red M&M candies on top of the melted red chocolate.
Place the cookie sheet in the refrigerator and chill for 1 hour to allow the chocolate to completely harden. Once hardened, break the popcorn into bite-size pieces.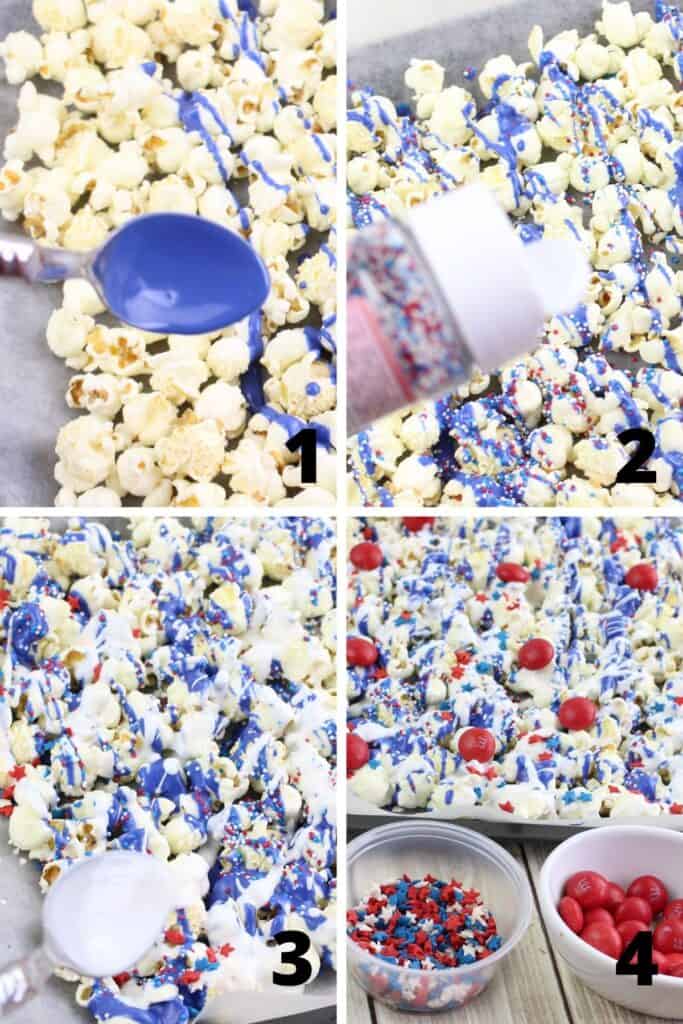 Amazing Patriotic Desserts for the 4th of July
4th of July is a favorite holiday of mine and I just have to share my other recipes and crafts with you. Be sure to check these out!