4th of July Poke Cake is a patriotic cake infused with Jell-o to create a red white and blue dessert perfect for the holiday.
Jello poke cakes are super easy to make with boxed cake mix. Just bake the cake according to the instructions, poke holes in the cake, pour the gelatin into the holes, chill and frost!
For more amazing patriotic desserts to wow a crowd, try this American Flag Fruit Pizza or these mini 4th of July pie bites.
This post contains affiliate links.
Patriotic Jello Poke Cake Ingredients
To make this easy patriotic cake recipe, you will need the following ingredients (see the recipe card below for exact amounts):
White cake mix: Using a white cake allows the colors of the jello to be bright and vivid. I would not substitute with another type of cake mix here. You can use a gluten-free mix to make this recipe gluten-free.
Egg whites: using just the whites helps to keep the cake fluffy and white.
Whole milk: any milk substitute would work here.
Unsalted butter: if you want to use salted butter here you can leave out the sea salt.
Fine sea salt: if you are using table salt reduce the amount to just a pinch
Red gelatin mix: I used strawberry Jell-o but any flavor of red gelatin will work. Try switching it up with cherry or raspberry. If you are not wanting to stick with the red, white, and blue theme any flavor will work!
Blue gelatin mix: I used berry blue Jell-o. If you are not wanting to stick with the red, white, and blue colors you can substitute with any flavor of gelatin.
Heavy whipping cream: this is the base of the frosting, you can make this recipe easier and use a pre-made whipped topping instead of making it yourself
Confectioners sugar: also known as powdered sugar
Clear vanilla extract: using a clear vanilla extract helps keep the frosting bright white. You can substitute with regular vanilla extract but note that it will give a brownish tint to the frosting.
Red, white, and blue sprinkles: you can also use blueberries and strawberries or other blue and red fruits as a topping
How to Make a Red White and Blue Poke Cake
Preheat the oven to 350 degrees F. Lightly grease a 9×13 inch baking dish and set aside.
Add the cake mix, egg whites, whole milk, melted butter, and sea salt to a large bowl. Use a mixer to combine the ingredients.
Pour the cake batter into the prepared pan and bake for the time listed on the packaging or until cake is golden brown on top and a knife or toothpick inserted in the center comes out clean.
Allow the cake to cool for 30 minutes.
Use a wooden spoon or large straw to poke several rows of holes over the entire cake.
Pour the gelatin mixes into separate bowls. Add 1 cup boiling water to each bowl and stir until the gelatin is dissolved. Once the gelatin has dissolved, add 1 cup cold water to each bowl and stir.
Spoon or slowly pour ¾ cup of each gelatin mix over the cake, alternating the blue and red between rows. [Note: There will be leftover jello. Allow the extra gelatin to set or use for another dessert.]
Place the cake in the fridge to chill for at least 3 hours.
Use a mixer to beat together the heavy cream, confectioner's sugar, and clear vanilla extract until stiff peaks form. Spread the whipped frosting evenly over the cake and top with sprinkles.
Storage Instructions
Store any leftover cake loosely covered in the refrigerator for up to 3 days. Due to the gelatin in the recipe this cake does need to stay refrigerated. The cool cake makes for a perfect treat on a warm summer day! You can leave the cake out for a bit when serving.
FAQs
Can I Make Poke Cake Ahead of Time?
The long chill time and need to be refrigerated makes this cake a perfect make-ahead treat! You can follow the recipe as written through step 8 (chilling the cake) and then make and top with frosting and sprinkles right before serving. Keep the unfrosted cake covered in the refrigerator for up to 2 days before serving.
How Do You Prevent the Gelatin Colors from Running Together?
To keep your gelatin colors separated it's necessary to alternate the colors between rows. Pour the gelatin in slowly- I find it best to use a spoon to do this. There may be slight running together of colors but if you stick to alternate rows and pour the gelatin in slowly you should get the results you are looking for.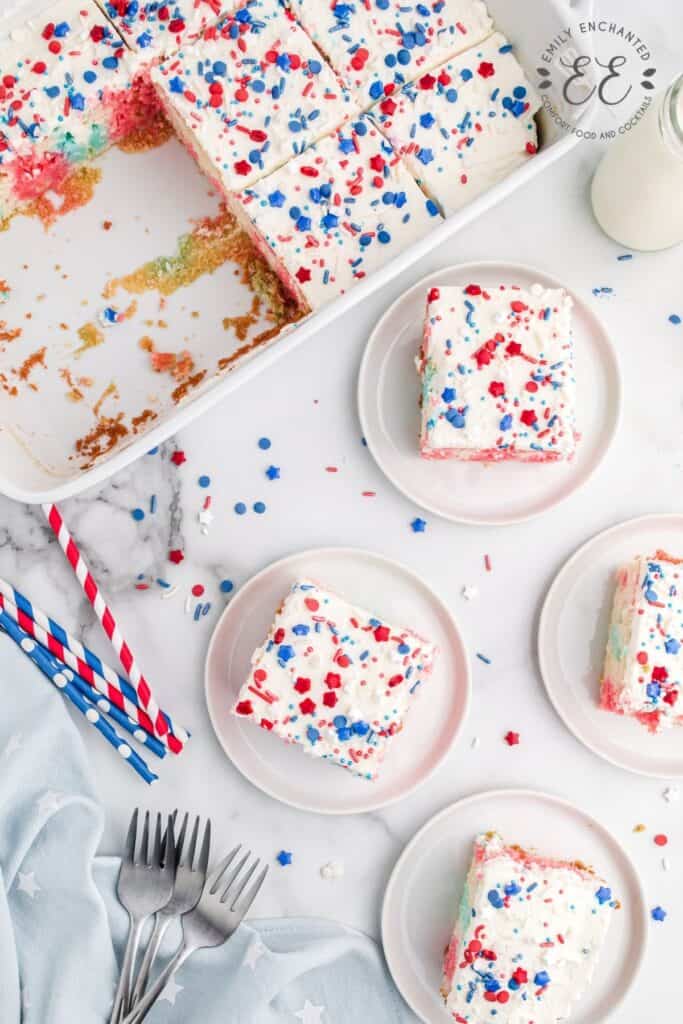 More 4th of July Dessert Recipes