4th of July Brownies come together so easy using a no fail, super fudgy brownie recipe. A drizzle of red and white chocolate and some sprinkles make these brownies pop.
This recipe has to sit overnight. The next day you can use a little star cookie cutter to cut them into little stars.
You can make these Red, White and Blue Star Brownie Bites for any summer get-together. When I think of summer, I think of sunflowers and everything patriotic. From Memorial Day to Labor Day, American flags are in my decor and my color scheme is red, white & blue!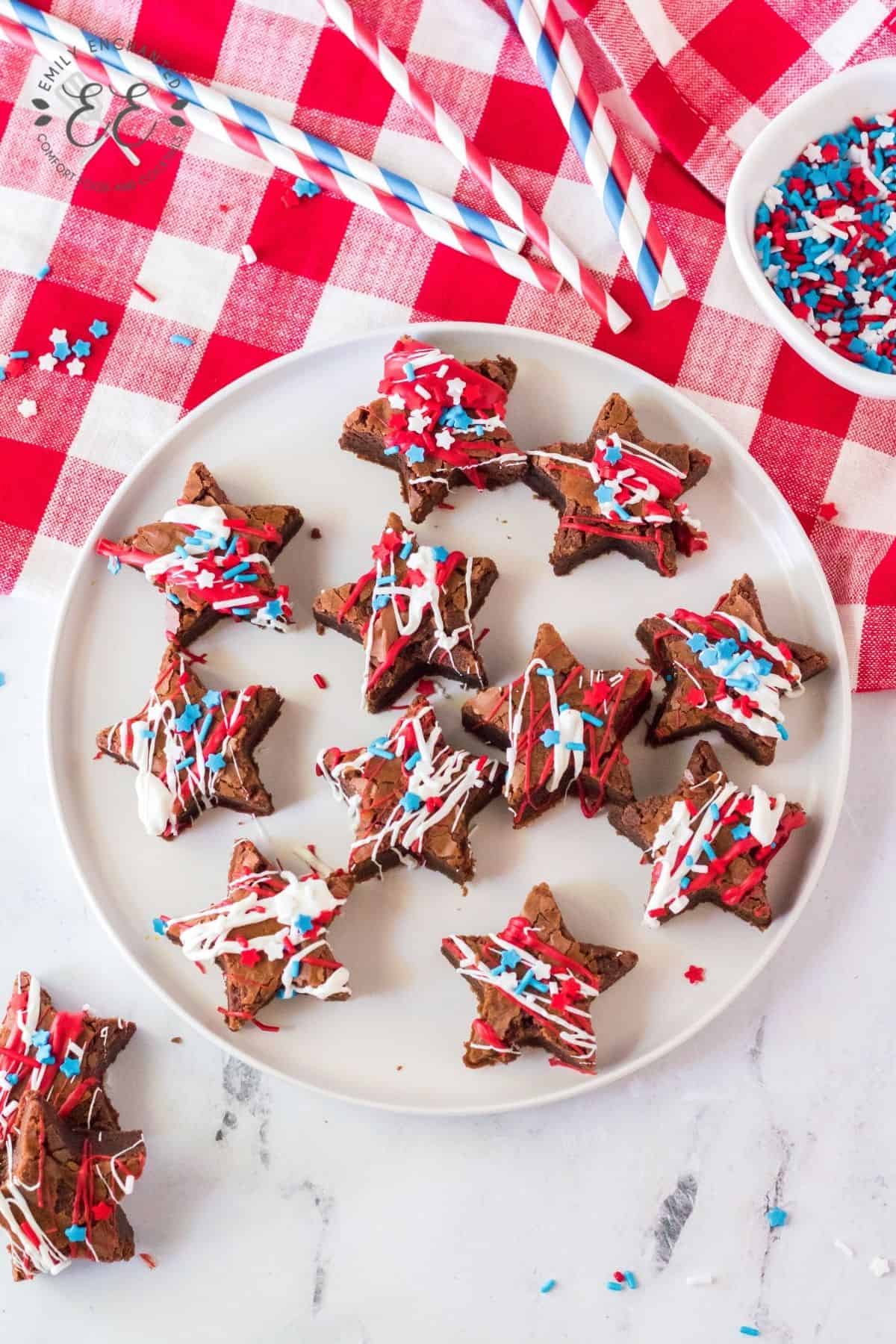 This post contains affiliate links.
4th of July Brownies Ingredients
To make this 4th of July dessert recipe, you will need the following ingredients (go to the recipe below for amounts and instructions):
granulated sugar
brown sugar
vanilla extract: You can use your favorite vanilla extract or vanilla bean paste.
salt
eggs
unsalted butter
semisweet chocolate chips
vegetable oil
all-purpose flour
cocoa powder
white melting chocolate
red melting chocolate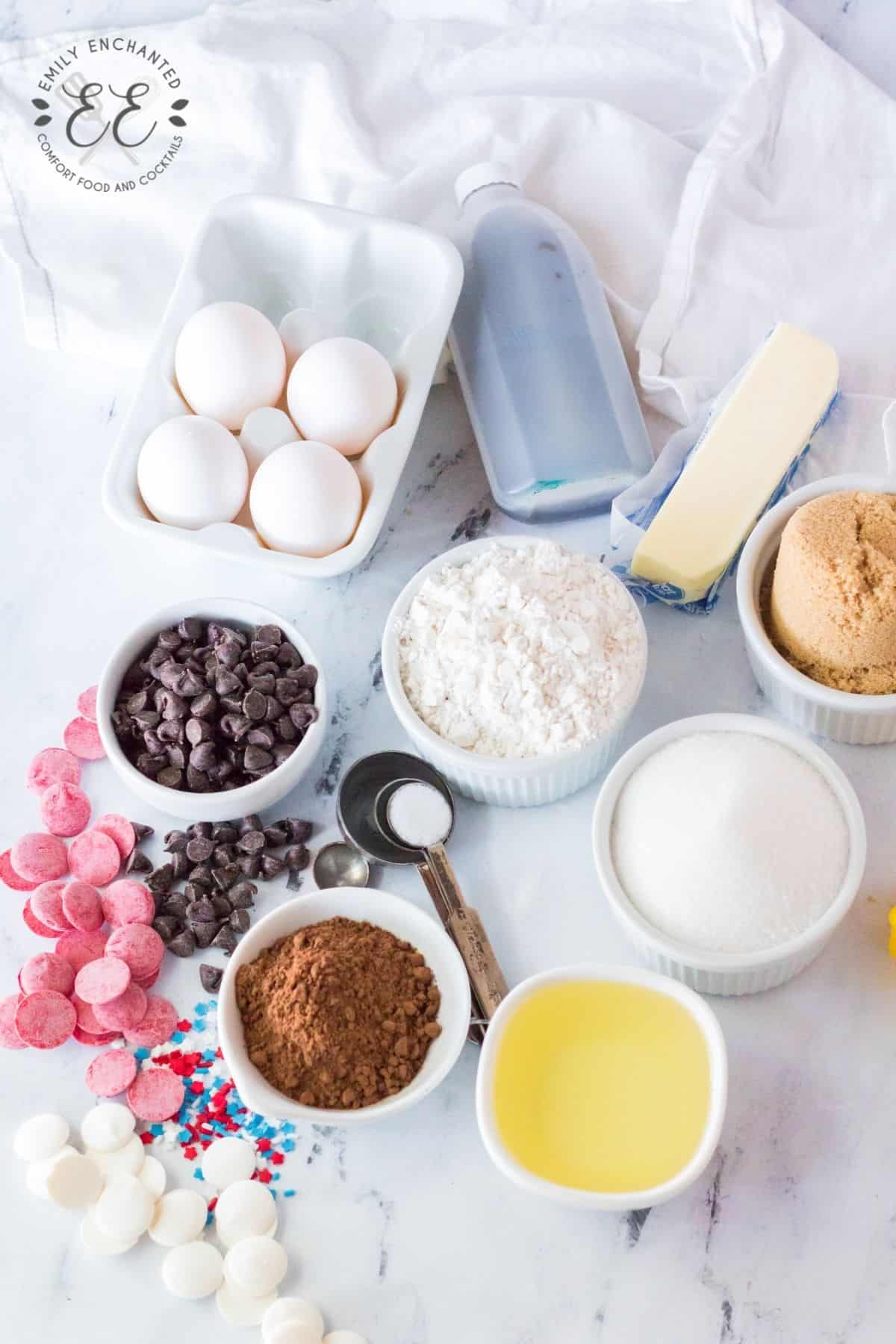 How to Make Star Brownies
Preheat the oven to 350 degrees. Line a 9×13 baking dish with parchment paper and spray with non-stick spray.
In a large mixing bowl combine the granulated sugar, brown sugar, vanilla, salt, whole eggs and yolks.
In a microwave safe bowl melt the butter and chocolate together in 30 second intervals until melted and smooth. Whisk in the vegetable oil to the chocolate mixture.
Pour the chocolate mixture into the sugar mixture and mix until fully combined.
Gently fold in the flour and cocoa.
Pour the brownie batter into the prepared pan and bake until a toothpick inserted in the center comes out clean, about 35 minutes.
Remove from the oven and set aside to cool. Once cooled, cover the brownies and let sit overnight to set up.
The next day use a small plastic star cookie cutter to cut out stars. Set the brownie bites on a cookie sheet lined with parchment paper.
In 2 microwave safe bowls place your red chocolate in one and white chocolate in the other. Melt each bowl of chocolate in the microwave in 30 second intervals until all melted and smooth.
Using a spoon or fork drizzle each color chocolate over each brownie bite and immediately top with sprinkles.
Place the pan in the fridge for 15-20 minutes to let the chocolate set.
Tips and Tricks
If you want only sprinkles and no chocolate on top, add the sprinkles before you bake them so they stick.
You can drizzle the the star brownies with melted chocolate and skip the sprinkles if you like. You can also drizzle blue melting chocolate on top.
These little brownie bites are perfect on top of ice cream.
I got a set of different size star cookie cutters and used a small one. You can even make varying size stars for some extra fun!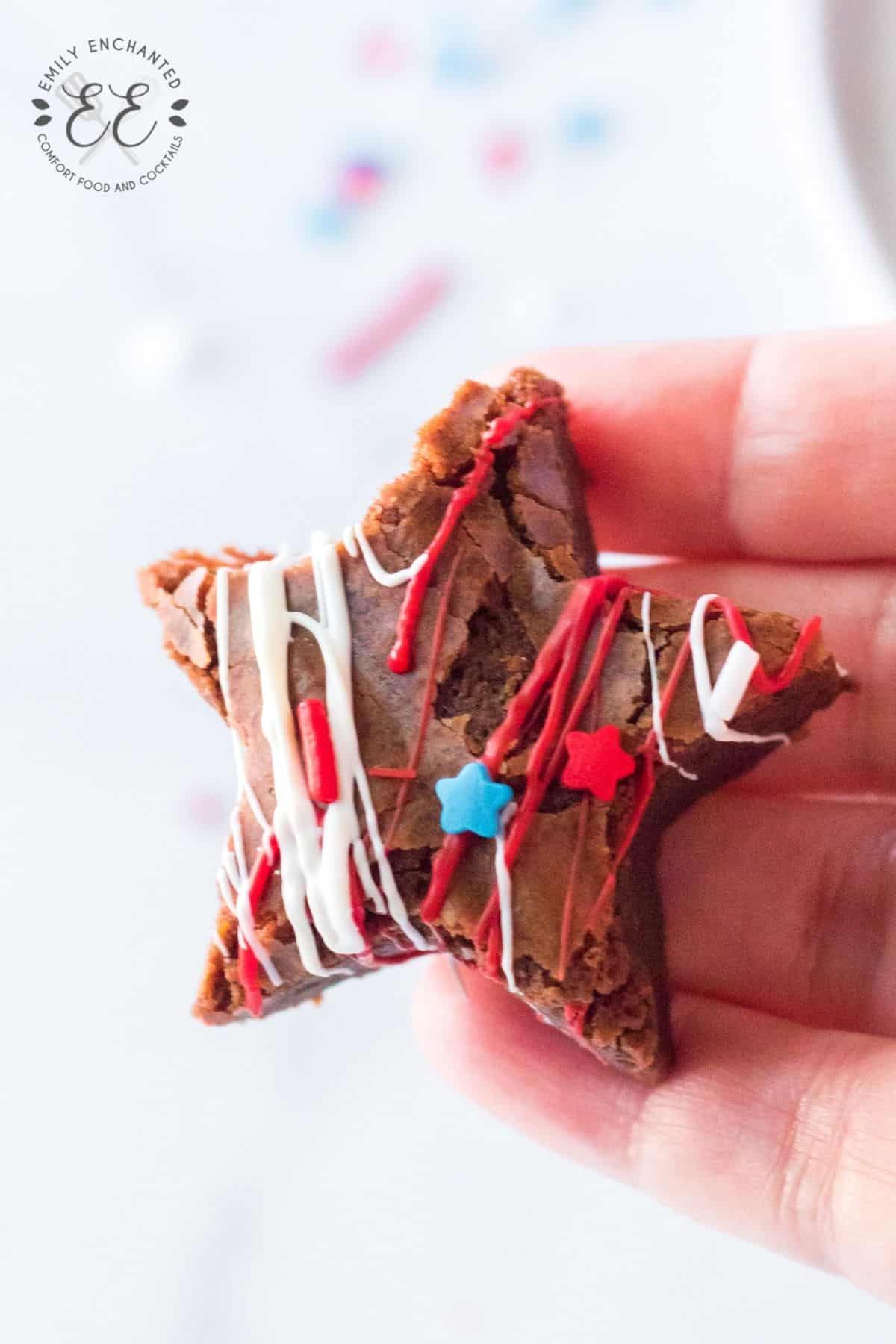 Storage Instructions
Store these brownies in an airtight container for 3 days or the refrigerator for 4 days.
FAQs
What should I do with the leftover brownies?
When you use an odd shaped cookie cutter, you will most likely have scraps leftover. You can crumble these on top of ice cream, add to a milkshake, or turn in to cake pops.
What do I do if the brownies are sticking to the cookie cutter?
You can spray the cookie cutter with non-stick baking spray.